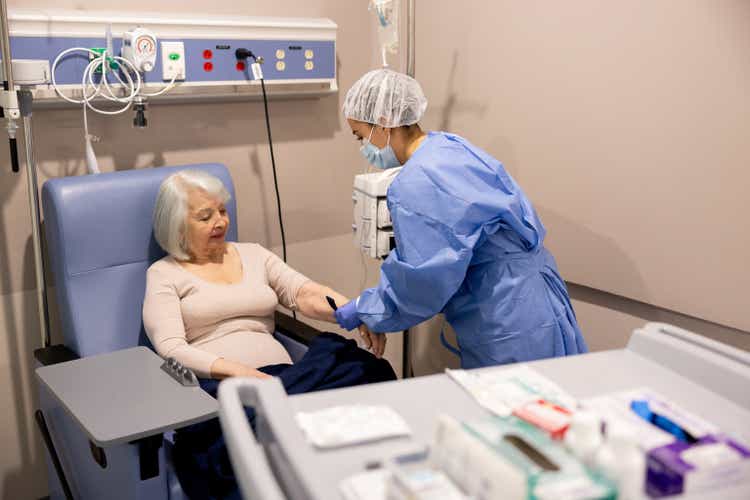 With the granting of full approval to Biogen (NASDAQ:BIIB) and Eisai's (OTCPK:ESALF) Leqembi (lecanemab) by the US FDA on July 6, sales are set to take off as Medicare will now cover the Alzheimer's therapy.
With an annual list price of $26.5K, Leqembi is set to become one of the most expensive drugs based on annual costs to be covered by Medicare Part B.
Leqembi's label says it "should be initiated" in those with mild cognitive impairment or mild dementia stage of Alzheimer's. These are earlier stages of the disease.
Patients will need to get twice weekly intravenous infusions and will also need to be monitored for brain swelling and bleeding, which was seen in some patients in trials. The labeling also asks doctors to have patients undergo testing for the presence of amyloid beta plaque in the brain, which the drug targets. In addition, doctors will have to take part in a registry and upload information on patients' experience with the drug as a way to better assess Leqembi's benefits and risks in the real world.
Eisai (OTCPK:ESALF) has previously stated that it expects Leqembi to be taken by 100K individuals with Alzheimer's within the first three years. With that number, Medicare spending on Leqembi would be ~$2.7B annually.
It is important to note that 100K is only ~1.5% of the estimated 6.7M Americans with Alzheimer's.
If Leqembi uptake grows to 5% of US Alzheimer's patients (335K) or 10% (670K), Medicare expenditure on Leqembi will jump to, respectively, $8.9B and $17.8B.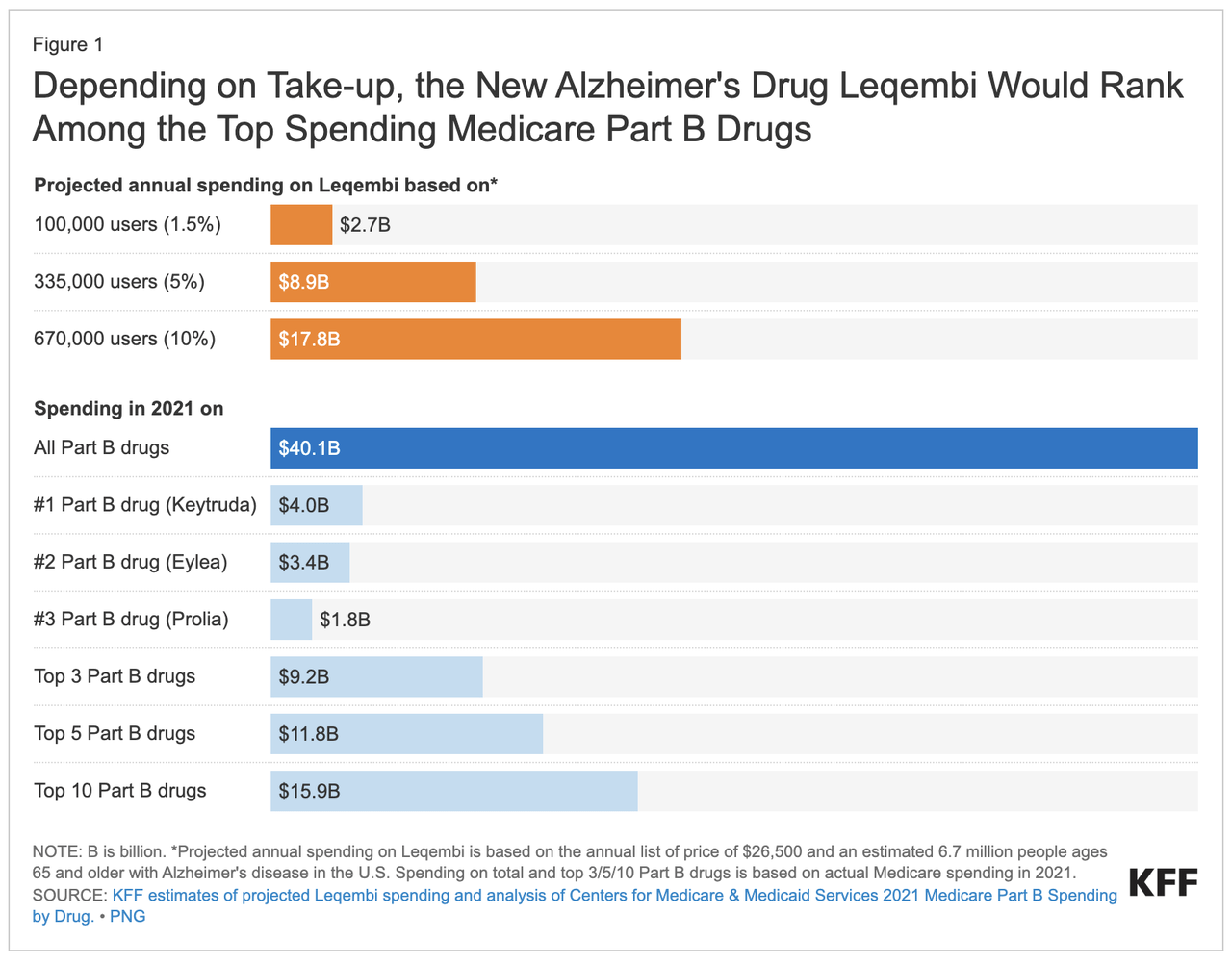 As a new Kaiser Family Foundation report points out, in 2021, Medicare spend was $40.1B on all Part B drugs. The Part B drug Medicare spent the most on that year was Merck cancer biologic Keytruda (pembrolizumab) with $4B.
KFF said that Medicare will also have to cover related expenses with use of Leqembi, such as PET scans and MRIs, though the organization did note the drug could lead to less spending in other areas, such as hospitalizations for falls and less skilled nursing facility stays.
KFF also noted that given the traditional Medicare Part B 20% coinsurance requirement, beneficiaries will still have to pay more than $5K a year out of pocket for Leqembi treatment. And although the Inflation Reduction Act caps out-of-pocket drug spend on high-priced Part D drugs, Leqembi is covered under Part B, which the new law does not apply to, according to the organization.
In addition, a major increase in Part B drug spend would likely lead to a significant increase in Part B premiums. KFF recalled that after Biogen (BIIB) and Eisai's (OTCPK:ESALF) other Alzheimer's treatment, Aduhelm (aducanumab), was approved in 2021, Part B premiums rose 15% between 2021 and 2022 as CMS forecast Medicare coverage for the therapy. Ultimately, Aduhelm was not given broad coverage, and Part B premiums declined 3% in 2023.
More on Leqembi
Will Watershed Moment For Alzheimer's Propel Biogen Stock Higher?
Biogen's Leqembi may not be widely used for Alzheimer's in Europe – report
Biogen's new Alzheimer's drug to raise annual Medicare costs by up to $5B – study
Biogen's Leqembi has questionable efficacy, cost effectiveness, ICER says
Alzheimer's disease market expected to reach $14B globally in 2030