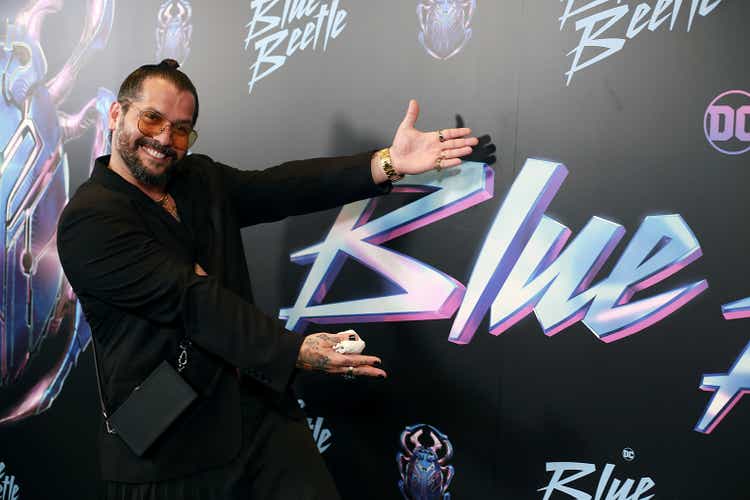 Barbie (NASDAQ:WBD) has continued to set box-office records, but now that it's in its fourth week in theaters, could a new DC hero prevail at the movies?
Blue Beetle (WBD) is Warner's latest comic hero to make the leap to the silver screen, and it marks the first live-action superhero film with a Latino lead. The film — about an artifact that allows a teenager to transform into the titular hero — drew $3.3M in Thursday previews and is tracking toward an opening of $25M up into the $30M range.
Barbie, the hit film based on the iconic Mattel (MAT) doll, scored nearly $34M last weekend — and even a typically strong hold might mean it sheds more than 30% of that, suggesting a weekend landing in the low to mid-$20M range.
Also opening this weekend is Strays (NASDAQ:CMCSA), a raunchy talking-dog adventure starring (among others) Will Ferrell and Jamie Foxx. The film garnered $1.1M in previews and is looking to an opening in the mid-teens.
Both Blue Beetle and Strays may be hampered by the Hollywood actors strike, which means stars haven't been able to do the typical promotion of the films.
Back to the current record-setters: Barbie needs just $33M more in domestic theaters to become 2023's top film on that basis, passing The Super Mario Bros. Movie's (CMCSA) $574.2M.
Meanwhile, another $10.5M for Oppenheimer (CMCSA) would make it the sixth-biggest grosser of 2023, behind The Little Mermaid (NYSE:DIS) with $297.2M.
Cinema tickers: AMC Entertainment (NYSE:AMC); Cineworld (OTCPK:CNNWQ); Cinemark (CNK); (IMAX); Marcus (MCS); Reading International (RDI); Cineplex (CGX:CA); National CineMedia (NCMI).
More on the box office