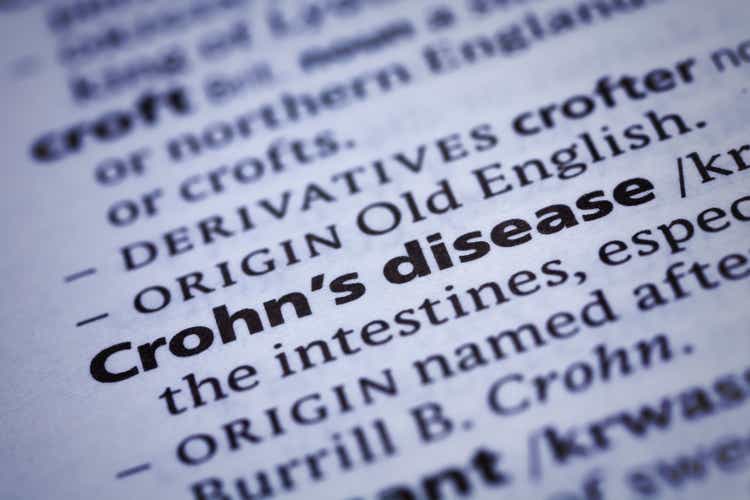 Pharmaceutical companies that market drugs for Crohn's disease — or have ones in development — are poised to benefit from an expected rise in cases of the inflammatory bowel disease.
As of 2022, there were 1.63M cases of Crohn's in eight major markets (US, France, Germany, Italy, Spain, UK, Japan, and Canada). The number is projected to rise to 1.69M by 2032, according to analysis and consulting firm GlobalData.
Adults between the ages of 18 to 59 years account for more than 68% of the diagnosed cases.
Treatments for Crohn's is big business for pharmas. As of 2022, the global treatment market for the disease was $11.2B, according to Future Market Insights. The firm added it expects a compound annual growth rate of 4.3% until 2033, when the market will be worth ~$17.8B.
Two of the biggest selling drugs are indicated for Crohn's: AbbVie's (NYSE:ABBV) Humira (adalimumab) and Johnson & Johnson's (NYSE:JNJ) Stelara (ustekinumab). The former is expected to bring in $13.5B worldwide this year, while the latter, $11B, according to Statista. Generic versions of Humira hit the market this year.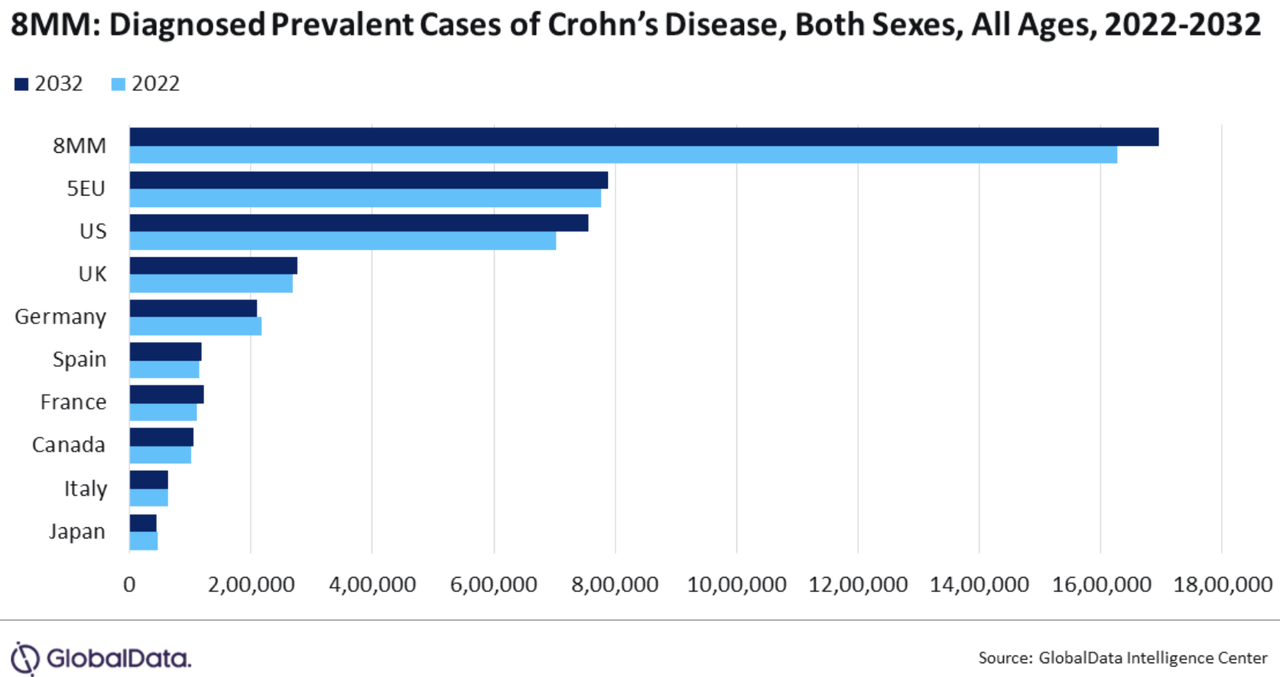 Although aminosalicylates, corticosteroids (such as prednisone), and immunomodulators, many of which are available generically, are often tried as first-line treatments for Crohn's, many patients progress and need biologic medications.
Besides Humira and Stelara, other common — and expensive — biologic treatments for Crohn's include AbbVie's (ABBV) Skyrizi (risankizumab), J&J's (JNJ) Remicade (infliximab), UCB's (OTCPK:UCBJF)(OTCPK:UCBJY) Cimzia (certolizumab), Takeda Pharmaceutical's (TAK) Entyvio (vedolizumab), and Biogen's (BIIB) Tysabri (natalizumab).
AbbVie also markets a pill for Crohn's, Rinvoq (upadacitinib).
Other medications could soon be approved for Crohn's. J&J's (JNJ) Tremfya (guselkumab) and Bristol-Myers Squibb's (NYSE:BMY) Zeposia (ozanimod), a capsule, are both in phase 3 for the indication.
Pfizer's (NYSE:PFE) alopecia treatment Litfulo (ritlecitinib) and etrasimod are in phase 2. In May, Amgen (AMGN) signed an agreement with TScan Therapeutics (TCRX) to identify novel targets for Crohn's. The deal could be worth than $500M to TScan (TCRX).