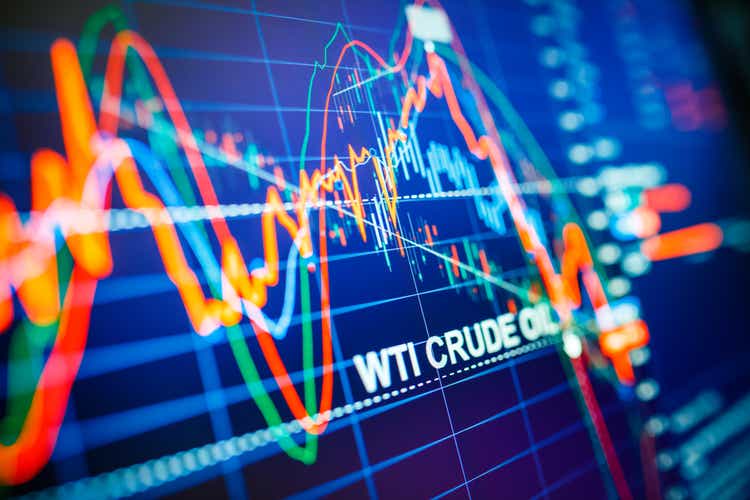 Energy (NYSEARCA:XLE) was the stock market's biggest sector loser Thursday, -2.2%, as all 11 S&P groups finished in the red, with crude oil finishing flat after a choppy session in which traders coped with mixed signals, including a price hike for Saudi crudes and broader risk-off sentiment.
Saudi Aramco raised prices for its benchmark Arab light crude by $0.80/bbl for buyers in Europe, $0.10/bbl for buyers in North America, $0.20/bbl in Asia and $1.00/bbl in the Mediterranean.
The price changes mean buyers in the U.S and other parts of North America will pay a $7.25/bbl premium for Saudi crude over the Argus Sour Crude Index, buyers in Asia will pay an extra $3.20/bbl over the average of the Oman and Dubai oil price benchmarks, while European buyers will pay a $3.80 premium and Mediterranean buyers will pay a $3.50 premium over Brent prices.
The Saudis started the week by rolling over the production cut it launched in July, and Russia lowered its output by 500K bbl/day.
Meanwhile, the Energy Information Administration reported U.S. commercial crude inventories fell by 1.5M barrels for the week ended June 30, the third straight weekly decline in domestic stockpiles.
WTI crude touched a two-week high early before slipping back below its 50-day moving average $71.34/bbl, with the front-month August contract (CL1:COM) settling at $71.80/bbl, while September Brent crude (CO1:COM) closed -0.2% at $76.52.
ETFs: (NYSEARCA:USO), (BNO), (UCO), (SCO), (DBO), (USL), (DRIP), (GUSH), (USOI), (NRGU)
The sector was weighed by weak leadership from Exxon Mobil (NYSE:XOM), which finished -3.7% for its worst close since mid-March after its business update showed lower natural gas prices and lower refining margins, setting the stage for soft Q2 results.
Other large losers included Antero Resources (AR) -4.6%, Range Resources (RRC) -4.3%, ConocoPhillips (COP) -3.5%, Hess (HES) -3.2%, Southwestern Energy (SWN) -3.2%.
The oil and gas sector is down ~10% YTD after today's loss, sitting at the bottom of this year's leaderboard.
More on oil and gas: