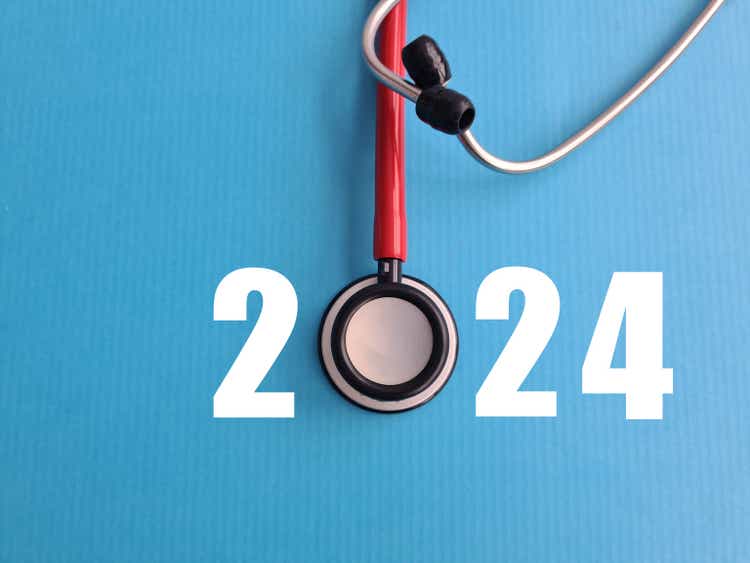 According to a recent survey conducted by Jefferies, a significant number of healthcare executives expect the healthcare sector to make a comeback in 2024, backed by M&A activity and the GLP-1 class of weight loss drugs, as COVID-19 takes a back seat.
In conjunction with its London Healthcare Conference, Jefferies said that a rising proportion of healthcare executives continue to expect a rebound in M&A in 2024 after two years of muted activity.
In 2022, the number and average size of global healthcare M&A fell more than 30% and around 15%, respectively, as companies took a wait-and-see approach amid market uncertainty, according to U.S. consultancy firm Bain & Company. That trend continued this year, with global M&A value falling 44% in the first five months alone.
Jefferies' survey involving more than 600 senior leaders and investors indicates a different view as 2023 draws to a close. 68% of its respondents expect rising M&A deal volumes in 2024, while only 5% project a lower level of deals.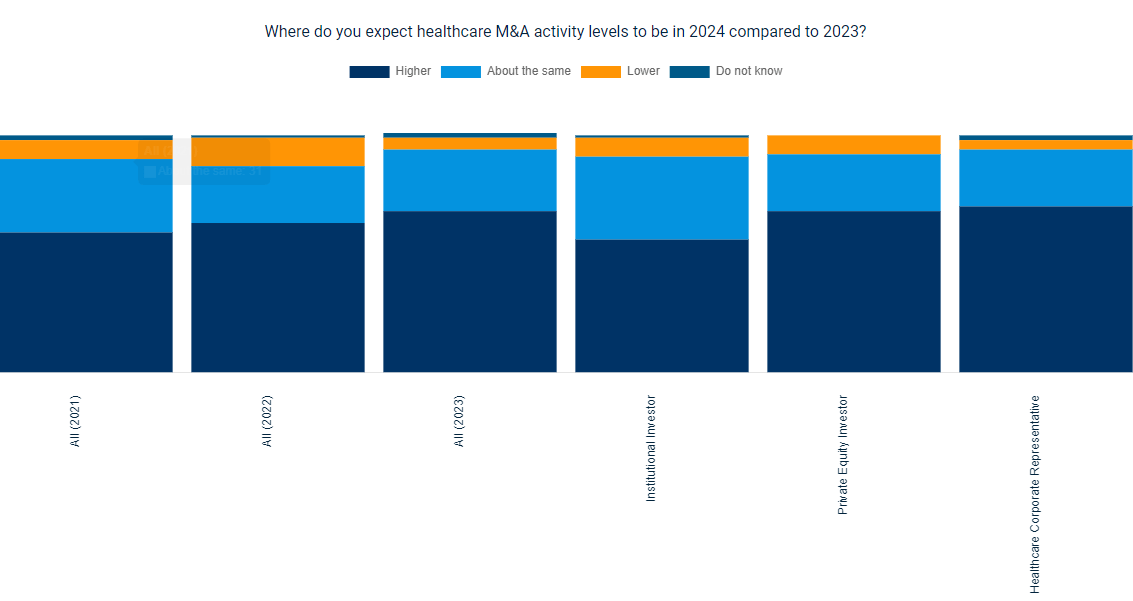 According to the survey, 60% and 16% of respondents expect corporates and private equity to lead M&A rebound in 2024, compared to 54% and 15% last year, respectively. Meanwhile, interest in public market debuts remains subdued, with 6% and 1% stating that IPOs and SPAC-driven M&A will dominate the healthcare sector in 2024, respectively.
"Sentiment towards Europe, in particular, is improving, with the region increasingly seen as a value opportunity for 2024 – with private equity investors the most bullish," Tommy Erdei, Global Joint Head of Jefferies Healthcare Investment Banking, said.
The report's other highlights indicate a potential rebound in healthcare equity and a newfound interest in the new GLP-1 class of weight loss drugs as COVID-19 fades from view.
While the MSCI World Health Care Index has lost ~6% this year until October, underperforming the broader market, 54% of respondents expect it to rise by the end of 2024, and only 15% predict a decline.
"Institutional investors are the most upbeat, with 92% believing that it will be at the same level or higher, and only 8% predicting a decrease," Jefferies said.
As for major healthcare themes, weight loss drugs are gaining momentum at the expense of COVID-19. Despite new variants, 84% of participants have indicated that COVID-19 will no longer be a major healthcare theme over the next twelve months.
"A big theme on everyone's radar is the GLP-1 market, as companies across the supply chain work to position themselves within the growth opportunity it presents," Erdei said, referring to drugs like Zepbound and Wegovy developed by Eli Lilly (NYSE:LLY) and Novo Nordisk (NVO).
"However, when asking about the developing GLP-1 market, we found a divergence of views," the firm said, noting that a third of respondents expect the GLP-1 market to be "very large with long-term sustainability."
However, the rest were not so convinced about the GLP-1 impact, as 35% flagged "substantial risks that could deflate the market," while 32% said there was insufficient data to jump to conclusions.