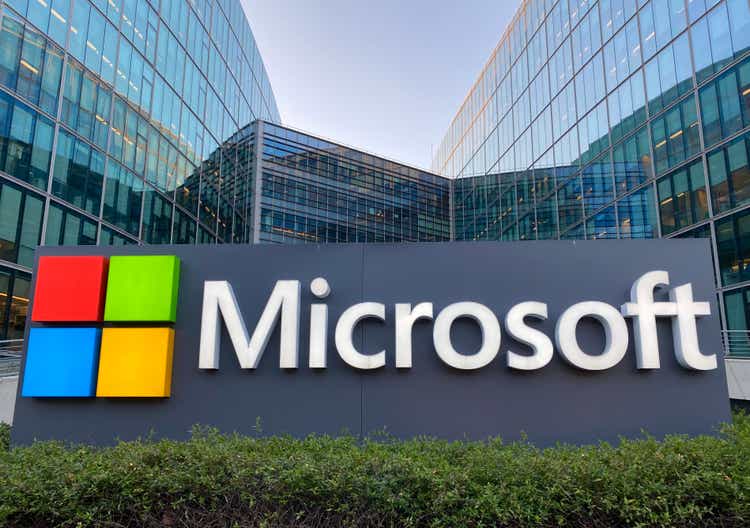 Microsoft (NASDAQ:MSFT) kicked off its annual Ignite conference this week, unveiling new artificial intelligence chips and updates to its overall AI strategy. While Piper Sandler said the conference is a "net positive" for the Satya Nadella-led company, it had positive ramifications for several other tech firms.
Analyst Brent Bracelin said Microsoft (MSFT) showing off its new Maia and Cobalt chips "alleviated" fears from investors that it could be constrained by supply chains, as well as any issues to long-term margins.
"These silicon accelerators purpose-built for large-scale data centers came with an interesting twist," Bracelin wrote. "Microsoft also plans to resell Azure Cobalt CPU to other cloud providers starting next year."
Bracelin also called Microsoft 365 Copilot "hot," as larger enterprise interest for the AI product is "encouraging." He pointed out there have been "substantial" commitments from companies like Accenture, BP, Dow, Honda, KPMG, Pfzier and Visa.
Bracelin cited survey work from "a large base" of Microsoft 365 Copilot users that showed 64% spent less time processing email, 70% were more productive and 77% would prefer Copilot to a free weekly lunch, saving an average of 4.8 hours per month.
"Based on a $80K/year salary, this would equate to about $192/mo of time savings for a product with a list price of $30/month," he explained.
Despite the positive sentiment for the new chips and enterprise uptake for Microsoft 365 Copilot, Bracelin said there is some negativity surrounding Copilot for small and medium-sized businesses. The commentary suggests Microsoft "missed the mark" with a high initial seat minimum of 300 or more.
"On the other hand, there appears to be pent-up demand for M365 Copilot in SMB once the minimums go away," Bracelin, who has an overweight rating and $425 price target on Microsoft (MSFT), added.
Other beneficiaries
Oracle (NYSE:ORCL), Asana (NYSE:ASAN) and monday.com (NASDAQ:MNDY) also benefited from the conference for a variety of reasons, Bracelin said.
For Oracle (ORCL), Bracelin said it's a positive that the first Oracle Cloud Infrastructure, or OCI, Exadata cluster inside Azure will be available in December. Additionally, there are plans to install Exadata across several regions in the first quarter of next year. Bracelin also noted companies such as Pepsi (PEP), Voya and Vodafone (VOD) are early adopters of Oracle on Azure.
Bracelin has an overweight rating and $130 price target on Oracle (ORCL).
Earlier this month, Oracle (ORCL) and Microsoft (MSFT) signed a deal that will see Microsoft (MSFT) utilize OCI AI infrastructure, along with its own Azure AI infrastructure, for inferencing of AI models.
Asana (ASAN) and monday.com (MNDY) are likely to see a "slight" positive, as the new Microsoft Planner product was not as bad as feared for the competition. Bracelin said the product has underwhelmed since being launched in 2016 and the timeline that was laid out at Ignite "suggests a full web-based product might not be available until late 2024."
Bracelin has an underweight rating and $16 price target on Asana (ASAN) and an overweight rating and $200 price target on monday.com (MNDY).