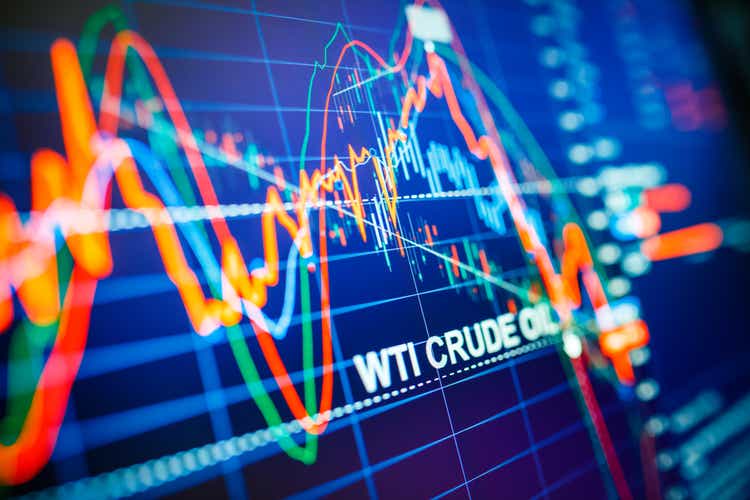 Equitrans Midstream (NYSE:ETRN) asked the U.S. Supreme Court on Friday to allow construction to resume on the Mountain Valley Pipeline after a three-judge panel of the Fourth U.S. Circuit Court of Appeals issued a pair of orders blocking the project earlier this week.
The company wants Chief Justice John Roberts to lift the orders, which were issued despite language in the debt ceiling legislation passed by the U.S. congress intended to prevent the $6.2B project from being stalled by the court.
Roberts is the justice assigned to handle emergency matters from the 4th Circuit; he could act on his own or refer the request to the full court.
Crude oil futures fell Friday as the dollar strengthened and oil traders booked profits from the strong rally in the rest of the week: Front-month Nymex crude (CL1:COM) for August settled -1.9% to $75.42/bbl, and September Brent crude (CO1:COM) closed -1.8% to $79.87/bbl.
For the full week, WTI crude gained 2.1% and Brent climbed 1.8%, both rising for three consecutive weeks as WTI and Brent added 9% and 8.1%, respectively.
Data indicated U.S. inflation was slowing more quickly than expected hit bond yields and the dollar this week, helping the prices of many dollar-denominated commodities, including oil.
Saudi Arabia's production cuts may finally begin to bite, tightening the oil market just as prices appear to be turning higher, the International Energy Agency said this week.
The cuts so far have been undermined by stronger output from non-OPEC+ producers such as the U.S., but the IEA sees those rival supply increases coming to an end.
Also supporting prices were upbeat projections about the global economy, especially from an OPEC report forecasting oil demand will pick up, especially in China.
Meanwhile, U.S. natural gas futures (NG1:COM) fell for the third straight week, with the front-month Nymex August contract sliding 1.6% to $2.539/MMBtu, despite extreme heat in the Southwest.
ETFs: (NYSEARCA:USO), (BNO), (UCO), (SCO), (DBO), (USL), (DRIP), (GUSH), (USOI), (NRGU), (UNG), (UGAZF), (BOIL), (KOLD), (UNL), (FCG)
In a strong week for the stock market, energy shares (NYSEARCA:XLE) posted the week's smallest gain of all 11 S&P sectors, +0.8%.
Top 10 gainers in energy and natural resources during the past 5 days: (BATL) +38.2%, (EXK) +23.4%, (TYGO) +23.3%, (WPRT) +22.7%, (MUX) +20.8%, (DLNG) +19.2%, (CTGO) +18.1%, (HMY) +17.3%, (AG) +16.8%, (SBSW) +16.6%.
Top 5 decliners in energy and natural resources during the past 5 days: (NEXT) -29%, (EOSE) -20.7%, (VGAS) -9.4%, (LITM) -7.9%, (WAVE) -7.9%.
Source: Barchart.com