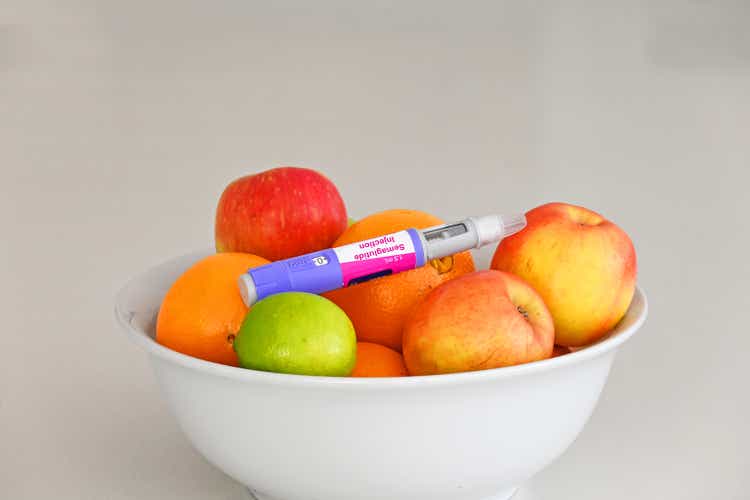 Only a tiny fraction of adults in the U.S. are using prescription weight loss drugs, while many more are looking forward to taking them if the meds are proven to be safe and effective, a new survey by the healthcare policy organization Kaiser Family Foundation shows.
The results demonstrate the current public awareness regarding this new class of weight loss drugs that are rapidly gaining popularity and show the market opportunity that drugmakers led by Novo Nordisk (NVO) and Eli Lilly (NYSE:LLY) have yet to address.
Novo's (OTCPK:NONOF) diabetes therapy Ozempic (semaglutide) is already approved as Wegovy for chronic weight management in adults, and Lilly (LLY) is advancing its diabetes therapy Mounjaro (tirzepatide) towards a weight loss indication potentially later this year.
Both drugmakers are grappling with supply issues for semaglutide and tirzepatide amid soaring demand, partly driven by celebrities and other influencers who popularize these costly treatments in mainstream publications and social media.
Amgen (AMGN), Pfizer (PFE), Altimmune (ALT), vTv Therapeutics (VTVT), Rhythm Pharmaceuticals (RYTM), and Viking Therapeutics (VKTX) are some of the other drugmakers with weight loss candidates in their pipelines.
The KFF poll based on more than 1,300 adults shows that only 4% of adults in the U.S. currently use prescription weight loss medications, and 45% are willing to do so if they hear that these treatments are safe and effective.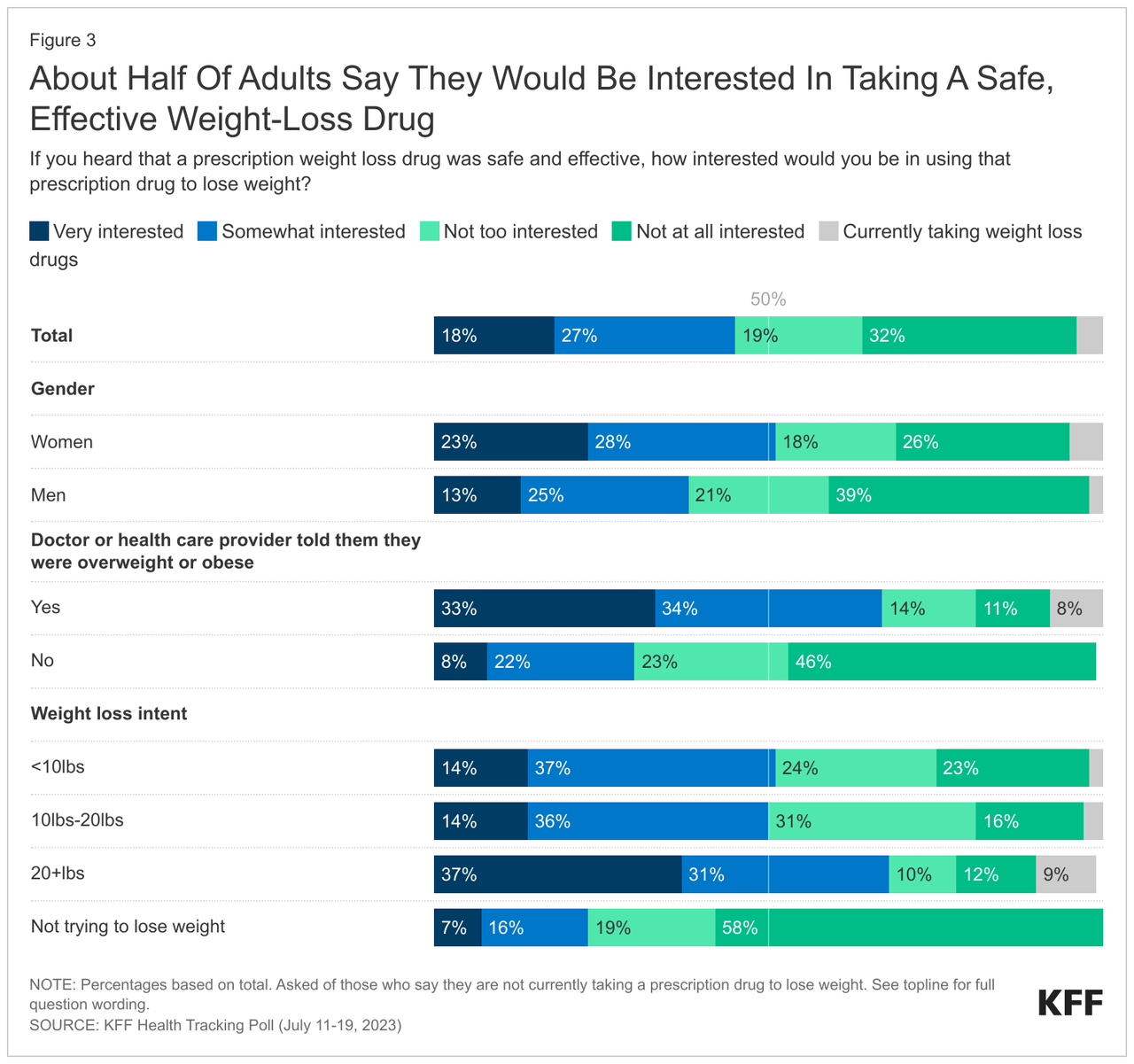 Despite being more effective than older drugs, the new weight loss drugs available as once-weekly injections can put a strain on your budget. A person on weight-loss medications can end up paying $900–$1,300 for a monthly supply of these drugs repurposed from diabetes medications.
According to the KFF poll, despite the overwhelming public interest, about nine in ten (87%) adults have never taken prescription weight loss drugs, even though about 70% have at least some idea about these drugs.
Concerns over payer coverage and the mode of administration seem to be at play. While 44% have indicated they will continue to be either "very" or "somewhat" interested in taking weight loss drugs if they are available as pills, the portion with interest drops to 23% if the drugs are indicated for self-administration as a weekly injection.
Those who are interested further decrease to 16% if there is no payer coverage and to 14% if patients find out about the potential to regain weight once the drugs are discontinued.
While Medicare specifically excludes reimbursement for weight loss drugs, commercial payers tie the coverage to patients' body mass index (BMI), a healthcare metric that puts obesity prevalence among American adults at 42%.
However, the competition to develop oral weight-loss drugs is gaining momentum. In June, Novo (NVO) and Lilly (LLY) announced data from two separate trials indicating that their oral GLP-1 (glucagon-like peptide-1) receptor agonists caused up to 15% of weight loss.
Meanwhile, in a Phase 2 trial for patients with Type 2 diabetes, those on Pfizer's (PFE) oral weight loss candidate danuglipron achieved 4.17 kg and 2.04 kg of weight loss compared to those on placebo after 120 mg and 80 mg twice daily dosing, respectively.
Even insurers will come under pressure to soften their stance on weight-loss drugs if drugmakers can prove their other health benefits. This summer, a large late-stage trial called SELECT, run by Novo (NVO), is expected to indicate Wegovy's effect on cardiovascular outcomes in patients with obesity.
More on weight loss drugs