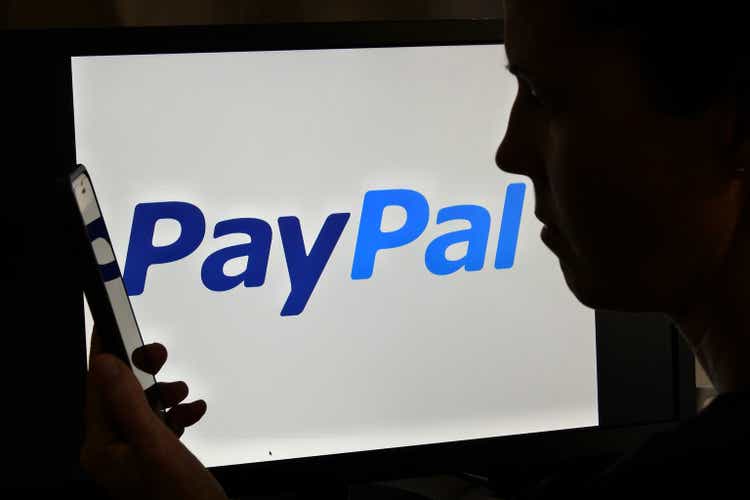 PayPal's (NASDAQ:PYPL) recently launched stablecoin, dubbed PayPal USD (PY-USD), could be a payments catalyst over time. But adoption of the cryptocurrency asset "is unlikely to be significant in the near term," Bank of America said in a recent research note, citing a lack of wallet compatibility, exchange trading pairs, or new functionality.
"Over the longer term, we expect PYUSD to experience additional adoption headwinds as competition from CBDCs (central bank digital currencies) and yield-bearing stablecoins increases," analyst Alkesh Shah wrote.
Last week, PayPal (PYPL) rolled out its dollar-pegged stablecoin at a time when such tokens have taken little share in consumer payments as regulators assess the stability of such transactions. Stablecoins, whose value is pegged to an asset, have been around for roughly a decade, but they're mostly used by traders to facilitate trades on crypto exchanges, as well as serve as the underlying asset for crypto loans.
PY-USD is structurally different to algorithmic stablecoins like collapsed TerraUSD in that its supply is not regulated by an algorithm and it's backed by low risk and liquid assets, including U.S. dollar deposits, short-term U.S. Treasurys, and similar cash equivalents. Two of the largest stablecoins by market cap – Tether (USDT-USD) and USD Coin (USDC-USD) – are also pegged to the U.S. dollar.
"Investors may have been fine holding non-yield bearing stablecoins, such as USDT and USDC, when rates were close to zero, but yield-bearing stablecoins will likely become increasingly available and attractive with short-term rates above 5%," Shah contended.
All in, Shah reckons investors generally don't have a preference for which stablecoins they hold "as long as the stablecoins are perceived as safe and accessible on the largest trading platforms."
For PY-USD's impact on the overall adoption of stablecoins, Konstantin Shulga, CEO and co-founder of Finery Markets, a multi-dealer electronic communication network for crypto firms, expects "an uptick in user familiarity and trust in stablecoins," given PayPal's (PYPL) outsized global reach and the "integration of PYUSD for peer-to-peer payments, including between digital wallets like PayPal and Venmo."
But, amid a lack of U.S. regulation for stablecoins, ethereum-based PY-USD has already drawn a harsh rebuke from Maxine Waters, the top Democrat on the House Financial Services Committee. On Wednesday, she warned that it's vital to establish "clear and strong consumer protections at the federal level," given PayPal's (PYPL) immense customer base of 435M and the fact that stablecoin payments are a practice that has yet to gain ground.
Nonetheless, PayPal (PYPL) appears willing to be transparent with the public about its holdings, and rightfully so, given all the fuss late last year over some of Tether's reserve assets.
Starting in September 2023, PayPal (PYPL) had said in a statement, Paxos Trust Company, which is issuing PY-USD, will publish a public monthly Reserve Report for the token that outlines the instruments composing the reserves. It will also issue a public third-party attestation of the value of PY-USD reserve assets.
More on PayPal USD and other stablecoins: