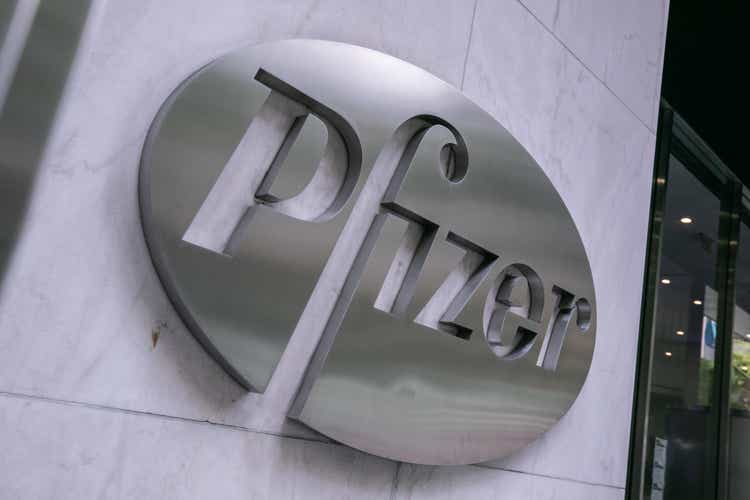 Pfizer (NYSE:PFE) is expected to report a dramatic year-over-year drop in Q2 revenue when it rolls out its earnings report on Tuesday, due largely to a steep decline in COVID-19 vaccine sales.
Analysts, on average, estimate the drugmaker will report non-GAAP EPS of $0.59, compared with last year's $2.04. Revenue is seen plunging to $13.46B from $27.74B in the 2022 period. For comparison, Pfizer reported revenue of $11.8B for Q2 2020, with sales jumping to $18.98B for Q2 2021 amid a surge in pandemic-related sales.
Pfizer has a mixed record of beating the Street. Over the past two years, the company's quarterly EPS results have topped estimates five times but missed three. Conversely, it's managed to beat revenue estimates three times but missed five. In the last 90 days, all of the 15 Pfizer analysts tracked by SA have revised their estimates downward.
The company easily topped estimates last quarter, despite reporting a 75% drop in operating revenue for its COVID-19 vaccine Comirnaty, which it developed with BioNTech (BNTX). For Q1, Pifzer posted a non-GAAP profit of $1.23 per share, beating the Street by $0.24. The drugmaker's Q1 revenue of $18.28B topped estimates by $1.79B.
Investors will be watching to see if Pfizer sticks by its 2023 guidance, which it reaffirmed last quarter. The drugmaker said it is expecting adjusted EPS of $3.25 to $3.45, on revenue of $67B to $71B.
Pfizer watchers will also be interested in hearing about the status of the company's $43B merger with Seagen (SGEN). The deal is currently being reviewed by the US Federal Trade Commision.
Wall Street and Seeking Alpha analysts, on average, currently have a buy rating on Pfizer. The stock's Quant rating, however, is a hold, with the company receiving a D for revisions but an A for valuation.
More on Pfizer:
RSV treatment market to surge past $9B by 2029
AstraZeneca unit in $1B deal with Pfizer for gene therapies
Pfizer restructuring leadership in R&D
How Pfizer Stands In My Investment Plans For Our Dividend Growth Portfolio
Pfizer: Significant Plunge, Offering Exceptional Buying Opportunity