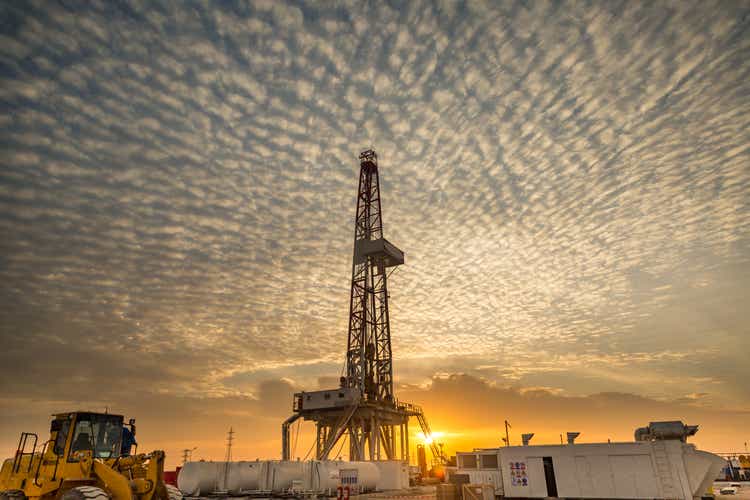 Pioneer Natural Resources (NYSE:PXD) is one of the few oil and gas producers showing a healthy gain Wednesday, +1.7% after reporting Q2 adjusted earnings that fell by more than half from a year ago but beat estimates.
After Q2 production jumped 11% Y/Y to 710,678 boe/day, Pioneer (PXD) raised its full-year production guidance to 697K-717K boe/day from its previous outlook of 670K-700K boe/day, including oil output of 364K-374K bbl/day, up from prior guidance of 357K-372K boe/day.
Q2 average realized price fell 34% Y/Y to $72.90/bbl for oil, fell 49% to $22.43/bbl for natural gas liquids, and fell 73% to $1.81/Mcf for natural gas; production costs averaged $10.39/boe.
Pioneer (PXD) said it is trimming its FY 2023 capital budget, including drilling and completions, by $125M at the midpoint to a range of $4.375B-$4.575B, as it now plans to operate an average of 23-25 horizontal drilling rigs in the Permian's Midland basin for the year, down by one from the midpoint of its prior forecast.
The company also expects to place 490-520 wells on production, below the 500-530 forecast in April.
In a Bloomberg interview, CEO Scott Sheffield said Pioneer (PXD) is experimenting with mining lithium from wastewater produced in the fracking process.
In addition to lithium, it might be possible to produce ammonia and gold from wastewater, Sheffield said.
The CEO also said he expects Brent crude to surge to $100/bbl by year-end as OPEC+ extends production cuts over the next few months.
More on Pioneer Natural Resources: